Sightseeing Bus - Malta Hop on / Hop off Bus Tour


Discover over 7000 years of Malta's history and attractions on this 1 or 2 day open top bus tour.
1 or 2 day ticket with unlimited hop on/hop off opportunities
Pre recorded commentary in Maltese, English, Italian, Spanish, German, French, Japanese, Russian, and Danish
Experience numerous ways to discover the beautiful Maltese islands. You will have plenty of amazing photo opportunities of panoramic views from the top of a Double-decker bus. Choose different routes with over 30 stops and 50 points of interest
Enjoy well knowns sights including the Mosta Church and Dome, Ta'Qali Craft Village, Rabat with many Roman Sites such as the restored Roman Villa and St Agatha's Catacombs and the medieval town of Mdina. Believed to be built around 3000 BC, you will have the unique opportunity to discover the famous 'Three Cities' and the Tarxien Temples.
Both the North and South Hop-On Hop-Off routes start from Sliema and go to Malta's Capital City Valletta, where the North itinerary heads off to the Historic City of Mdina before taking you to appreciate the northern countryside. If you are looking to learn more about the history of Malta, then the South itinerary offers a more historic aspect to the Maltese Islands with stops at prehistoric temples.
Changes from one line to another can only be done at the Valletta Waterfront stop.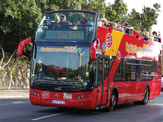 South route –
Stop 1 - Valletta Waterfront
Stop 2 - Tarxien
Stop 3 - Vittoriosa Waterfront
Stop 4 - Marsaxlokk
Stop 5 - Blue Grotto
Stop 6 - Hagar Qim & Mnajdra
Stop 7 - Castille
Stop 8 - Mediterranean Conference Centre
North route –
Stop 1 - Valletta Waterfront
Stop 2 - San Anton Gardens
Stop 3 - Ta Qali - Aviation Museum
Stop 4 - Ta Qali - Crafts Village
Stop 5 - Ta Qali - Mdina Glass
Stop 6 - Mdina
Stop 7 - Rabat
Stop 8 - Mosta
Stop 9 - Castille
Stop 10 - Mediterranean Conference Centre
Shuttle service route –
Stop 1 - Bugibba (Topaz Hotel)
Stop 2 - Bugibba Centre (Santana Hotel)
Stop 3 - Qawra Seafront (Qawra Palace Hotel)
Stop 4 - Qawra Seafront (Seashells Suncrest)
Stop 5 - Qawra (Bellavista Hotel)
Stop 6 - Mediterraneo Marine Park
Stop 7 - St Julians (St Georges Bay)
Stop 8 - St Julians (Westin Dragonara)
Stop 9 - St Julians (Hilton Malta)
Stop 10 - St Julians (Spinola Bay)
Stop 11 - St Julians (Balluta Bay)
Stop 12 - Sliema Seafront
Stop 13 - Sliema Ferry
Stop 14 - Manoel Island
Stop 15 - Castille
Stop 16 - Valletta Waterfront
Timetable (subject to change) -
North Route
First Tour: 9.00am
Last Tour: 3.00pm
Duration: 90 minutes
Frequency: 30 minutes
South Route
First Tour: 9.00am
Last Tour: 2.45pm
Duration: 135 minutes
Frequency: 45 minutes
Shuttle service route Route
First Tour: 8.00am
Last Tour: 1.30pm
Duration: 120 minutes
Frequency: 30 minutes
Commentary - Maltese, English, Italian, Spanish, German, French, Japanese, Russian and Danish
Buses run from 8.00am and the last tour is at 3.00pm
Ticket is valid for 24 hours or 48 hours
Entrance to any of the attractions
Casual. Dress according to the weather for that day.
The bus is accessible by wheelchair.
Times subject to change
The buses run every 30-45 minutes ensuring you never have long to wait for the next bus to come along.
The tour takes 90 minutes on the north route, 135 minutes on the south route and 120 minutes on the shuttle service route to complete.
Children under 5 years travel free
Frequently Asked Questions
Do I need to detail a specific date for my tour? No, we will issue you with an open-dated ticket voucher and you simply exchange your voucher on your chosen date. Your ticket will then be valid for 24 or 48 hours from this point.
Is there a limit to the number of times I can get off and re-join the tour bus? No, you can get off and on the buses as many times as you like.
Now booking up to 01 May 2017