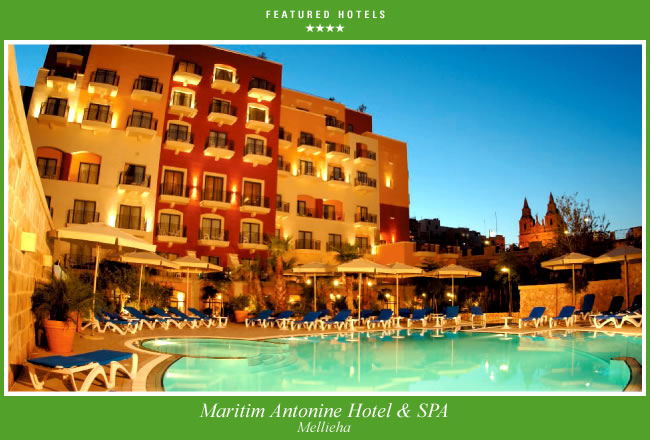 Room Features


• 108 rooms - including 32 suites


• Stylish and beautifully appointed
• Air-conditioning
• Sitting area
• Bath / WC / Hairdryer
• Satellite television
• T elephone
• Minibar
• Room Safe

Hotel Facilities
• 2 outdoor pools
• Heated indoor pool with whirlpool.
• 2 restaurants
• Cocktail & Piano Bar
• Fully equipped Gymnasium
• SPA facilities
• Conference Suites
• Room Service
• 24 hour reception
• Internet Café
• Hair Dresser
MARITIM Antonine Hotel & Spa is a new 4-Star
Superior Hotel situated in the heart of the picturesque
town of Mellieha in the north of the Island. This luxurious hotel has been designed for the discerning client, where guests can enjoy splendid views of the sloping valley gardens and the blue waters of the
Mediterranean sea.

Malta's only medically supervised Spa located on its own .oor, with direct elevator access, the facilities within the Spa include saltwater hydrotherapy pool, jacuzzi, gymnasium, private therapy rooms, solarium, sauna and steambath.

The Spa offers a large selection of therapies, ranging from medial, such as physiotherapy, lymph drainage & thesteopathy, to luxurious relaxation treatments (hot stone, Tibetan pebble, chocolate full body massage, thalasso facials, etc) and traditional Eastern treatments for y our pleasure including acupuncture, Chinese massage and ayrueveda treatments.
Amongst the hotel's numerous amenities are the Pizzeria Al Ponte for casual dining, Les Jardins Restaurant offering enriched buffet, both restaurants with terrace (weather depending) and Le Mirage Cocktail and Piano Bar and a relaxed atmosphere at our "120 Bar".

The MARITIM Antonine Hotel and Spa is a four star luxury hotel situated in the heart of the coastal town of Mellieħa; the ideal haven for accommodation from which to discover Malta's rich history and explore the plethora of beautiful attractions which the Maltese islands have to offer.
The hotel has been providing guests with pristine service since its inauguration in August 2002 under the name 'Antonine Hotel & Spa', Eight months later, i.e. in April 2003 the hotel was renamed 'Maritim Antonine Hotel & Spa' following an agreement which made the hotel a part of the prestigious German MARITIM Hotels Group.
The MARITIM is surrounded by dramatic views and offers an exceptionally welcoming atmosphere in which to relax and soak up all the elements of the Mediterranean way of life. Dedicated and courteous staff are always at hand to attend to guests with a pleasant smile and the utmost care.
Maltese architecture across the ages as well as the colours and natural materials of the Island are found throughout the hotel. Also, the hotel comprises of two buildings which are connected by a short underground tunnel; a historical entity in its own right with its original limestone walls properly preserved.
Accessibility in this spacious hotel is a top priority and outstanding facilities for both business and leisure travellers available to all guests
STANDARD ROOM
COMFORM ROOM
DELUX ROOM
PRESTIGE ROOM
MARITIM SUITES ( 3 TYPE)
SPA - DETAILS
RESTAURANTS & BARS
CONFERENCES
ROOM ONLY PRICES PACKAGE PRICES