Just Malta !
Celebrating 25 years of providing holidays to Malta & Gozo !
Our Team
We have a team in both the UK and Malta conveniently located, to ensure someone is always near to sort out any unforeseen problems or that last minute tour or car hire booking.
We have made it easy and safe to reserve and pay online.

About Us
For the last 25 years our team have been organising holidays to Malta and Gozo.
Our Head Office is based in Kent on the London borders with Branch Offices in Cambridgeshire & Warwickshire.
All bookings made with us are Fully protected by ABTA and CAA ATOL.
Unlike many accommodation only bookings made on the web, bookings made with us are protected by ABTA as we are a licensed Tour Operator as well as a Travel Agency.
All bookings involving Flights are covered by our ATOL licence and IATA membership.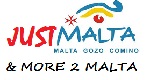 Our Sites include : www.justmalta.co.uk / www.justmalta.com / www.justmalta.info / www.justmalta.net / www.justmalta.eu
Hotels in Sliema, Fortina Spa, The Palace, The Diplomat, Howard Johnson Diplomat, Hotel Fortina, Park Hotel, The Preluna Hotel, Victoria Hotel, Windsor Hotel, Astra Hotel, Carlton Hotel, Day's Inn, Days Inn Hotel, Imperial Hotel, New Tower Palace Hotel, Patricia Hotel, Plaza Hotel, Plaza Regency Hotel, Plaza & Plaza Regency Hotels, Hotel Plevna, Hotel Roma, Sliema Chalet Hotel, Sliema Hotel, Sliema Marina Hotel, Europa Hotel, Alborada Aparthotel, Pebbles Boutique Aparthotel,

Hotels in Gzira, Hotel Kennedy Nova, Waterfront Hotel, 115 The Strand,Bay View Hotel, Bayview Apartments, Hotel Milano Due,

Hotels in St Julians: - Corinthia San Gorg, Corinthia Marina, Hilton Malta, Intercontinental Malta, Le Meridien St Julians, Radisson Blu St Julians, Westin Dragonara, Hotel Argento, Bay Street Hotel, Cavalieri Hotel, The George, Golden Tulip Vivaldi, Hotel Juliani, Alexandra Hotel, Alfonso Hotel, Hotel Rafael Spinola, St George's Park Complex, St Julian's Bay Hotel, Hotel Valentina, Villa Rosa Hotel, Hotel Euro Star, Tropicana Hotel, Whitehouse Residence, Dean Hamlet, The Residence St Julians, La Vallette,

Hotels in Kappara, hotel kappara, Sundown Court,

Hotels in Msida, Kingsgate Arms Aparthotel, NSTS Campus Residence, Hotels in Lija, University Residence,

Hotels in Attard :- Corinthia Palace,
Hotels in Mdina :- Xara Palace, Xara Palace Relais & Chateaux, Hotels in Swieqi, Garden View Holiday Complex,
Hotels in Comino, Comino Hotels, Comino Hotels and Bungalows,

Hotels in Gozo, Hotel Ta'Cenc, Kempinski, Kempinski San Lawrenz, Hotel Calypso, Grand Hotel, St Patrick's Hotel, Downtown Hotel, Ulysees Aparthotel, Hotel Xlendi Resort,

Hotels in San Lawrenz, Hotels in Marsalforn, Hotels in Xlendi, Hotels in Victoria, Hotels in Rabat,

Hotels in Valletta :- Grand Hotel Excelsior, Hotel Phoenicia, Castille Hotel, Osborne Hotel, Osbourne Hotel, British Hotel, Grand Harbour Hotel,

Hotels in Golden Sands : - Raddison Blu Golden Sands,

Hotels in Salina Bay, Coastline Hotel,
Hotels in Cirkewwa, Hotels in Marfa, Hotels in Ramla Bay,
Hotels in Marsacala, Cerviola Hotel, Sensi Hotel, Hotel Seabreeze,

Hotels in Mellieha, Martim Antonine, Mellieha Bay Hotel, Paradise Bay, Ramla Bay Resort, The Riviera Resort, Barcelo Riviera, Selmun Moon, Seabank Hotel, Seabank All Inclusive Resort, Solana Hotel, Hotel Panorama, Pergola Club Hotel, Luna Holiday Complex, Mellieha Holiday Centre,

Hotels in Qawra, Bella Vista, Canifor Hotel, Dolmen Resort Hotel, Il Palazzin Hotel, Qawra Palace Hotel, San Antonio Hotel, Hotel Santana, Seashells Resort, Suncrest Hotel, SOL Suncrest, The Soreda Hotel, Euroclub Hotel, Sea View Hotel, Sunflower Hotel, Club Riza Aparthotel, Club Salina Wharf, Park Lane Aparthotel, Sunny Coast Resort Club, Clover Holiday Complex, Mavina Aparthotel, White Dolphin Aparthotel, Cardor Holiday Complex, Huli Apathotel, Qawra Point Holiday Complex,

Hotels in Bugibba, The Crown Hotel, Topaz Hotel, Bugibba Hotel, Coral Hotel, Primera Hotel, Relax Inn, Hotel Esmeralda Club, Sunseeker Holiday Complex, For Rest Aparthotel, Solair Holiday Complex,
Hotels in St Pauls Bay, Gillieru Harbour, Ambassador Hotel, Hotel San Pawl, Mediterranea Hotel & Suites, Port Azzurro,