City Sightseeing Gozo - Hop on Hop off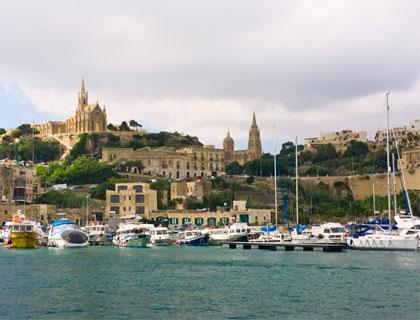 Our new open top bus tour of Gozo starts from the picture postcard Mgarr Harbour. The route takes about 150 minutes with 20 stops so that you will be visiting all the major attractions that this beautiful island has to offer.

Hop on and off at your leisure at conveniently located stops along the route. On one side of Mgarr Harbour is Fort chambray, built by the Knights of St. John in 1749, which majestically and defiantly guards the harbour from its vantage point, while the church dedicated to Our Lady of Lourdes is a prominent landmark overlooking the harbour.

The City Sightseeing bus tour of Gozo visits the fascinating and ancient Ggantuja Temples and Fungus Rock. Hop off at Dwejra and experience the most popular attraction; the Azure Window. The Azure window is a monumental limestone archway created by thousands of years of sea erosion. For such a small island, Gozo has a high concentration of 22 Churches.

Admire the Xewkija famed rotunda church, which has a capacity of 3000, enough to hold the entire population of Xewkija village!

City Sightseeing's tour will help you to discover Gozo - one of the most untouched and unique islands in the Mediterranean. With its picturesque and tranquil towns and villages, where life has barely changed for hundreds of years and many traditions are still upheld.

Please note that Routes/Maps are subject to change without notice. Any changes are beyond our control and no refunds will be offered. For the most up to date Route/Map please always enquire when in resort.
Now booking up to 01 May 2017