History and culture
Evidence of Malta's earliest inhabitants dates back 8,000 years. The extraordinary Neolithic temples that can be viewed on the island are believed to be older than the ancient pyramids of Egypt and are widely thought to be the oldest free-standing monuments in the world.
The islands were conquered by the Phoenicians around 2,000 BC, followed by the Carthaginians, Romans and Arabs respectively. The Order of Knights of St John ruled the islands from 1530 until 1798, building hospitals, palaces and churches, erecting extensive fortifications and generally boosting trade. A spate of attacks from the Ottomans culminated in a prolonged battle later known as The Great Siege of 1565.
In 1798, Napoleon's army conquered the islands, establishing a civil code and educational system, as well as abolishing slavery, but the British – who ruled for the next 160 years - took over soon after.

In the course of WW2, the indomitable spirit shown by the Maltese led King George VI to award Malta the ultimate accolade of the George Cross, which is proudly displayed on the national flag to this day. The country became independent in 1964 and joined the European Union in 2004.
Signs of Malta's strong national identity, enriched by millennia of foreign cultural influences, are most marked at the National Museum of Fine Arts, where the exhibits cover all key periods from the early Renaissance onwards. The 16th century Manoel Theatre, Mediterranean Conference Centre and St James Cavalier are the key venues for theatre (often in English), dance and music, and like the opera season, feature international as well as home-grown talent. The Malta international Jazz Festival is a highlight of the summer and there is also a month-long arts festival, as well as various beer and wine events. Every village attempts to outdo its neighbours with firework displays during the so-called Parish Feast and both the traditional Good Friday and Easter celebrations are truly memorable.


Entertainment
The island seamlessly morphs from day to night and as the shops close in Valletta and Sliema, the bars, restaurants and theatres start to hum. Later on, the crowds move on to the many night clubs, most of which are clustered around Paceville.
The waterfronts at Valletta and Vittoriosa are popular for their regular night cruises, while roulette, baccarat, blackjack and boule can be played at casinos such as the Dragonara, St Julian's or the Casino de Venezia in Vittoriosa. There are numerous cinemas showing the latest releases of English and American films, while the theatres offer drama and dance, as well as opera and pop concerts.
The Spring carnival in Valletta is a colourful, family affair, while the Nadur carnival is an all-night festa. During the day, there is a water park at Bahar ic-Caghaq open in summer, a bowling alley and a go-karting track at Ta' Qali. A seaplane offers scenic tours of the island while various companies offer white-knuckle off-road jeep safaris.
Professional dive centres offer trips to wrecks and caves, with crystal-clear waters making night dives a unique attraction.
Museums
In Malta, discovering 8,000 years of history is easier than you think; just a short drive from one era to the next. The Neolithic sites are awe-inspiring glimpses into the earliest civilisations and while the subterranean Hypogeum is a UNSECO World Heritage Site in its own right, visits need to be booked in advance.
The Archaeological Museum in Valletta is fascinating, but little remains of the Roman legacy aside from the mosaics at the Domus in Rabat. The Knights of St John on the other hand created cultural masterpieces across the islands.
Exhibits of armoury at the Palace in Valletta are stunning, while the city's cathedral showcases masterpieces by Caravaggio. The Maritime Museum in Vittoriosa explains Malta's strategic role at the heart of the Mediterranean and there are numerous private museums, including the folklore museum in Gozo, Casa Rocca Piccola in Valletta, Palazzo Falson in Mdina, and Palazzo Parisio in Naxxar, that are all well worth a visit.

Attractions
Valletta is packed with historical sites, as well as some of the island's best shops, an open-air market and several theatres, and the fortified city of Mdina is a warren of intriguing small alleys.
Churches are a great place to witness Malta's legacy, whether at the Mosta dome, or the sanctuary at Ta' Pinu in Gozo, while the sight of traditional fishing in Marsaxlokk or a walk on the promenade in Marsascala makes for a relaxing afternoon.
Gozo has a charming citadel towering over its capital, Victoria, but many of its villages too are impressive. Marsalforn and Xlendi are bustling summer resorts while the Inland Sea and Azure Window at San Lawrenz are picture-postcard perfection.
There are numerous rocky coves offering extraordinary swimming and diving in Malta. Small boats take visitors to the Blue Grotto caves from the picturesque village at Wied iz-Zurrieq and there are watersports on offer at most beaches. Try a harbour cruise around Valletta or a boat trip to the stunning turquoise waters of Comino.
Shopping
The Maltese love shopping and the streets in the main shopping districts of Valletta, Sliema, Mosta and Hamrun are packed with well-known brands. Shopping complexes are popping up in many areas, typically offering restaurants, bars and cafes as well as stores.
There are daily open air markets in Valletta, Marsaxlokk and Victoria, and if you want to see souvenirs being made, go to the Crafts' Villages at Ta' Qali and Ta' Dbiegi. Traditional crafts are filigree, weave, pottery, blown glass, ceramics, dolls, lace, copper and brass items and while knitted garments are still handmade in Gozo, they tend to be practical rather than artistic.
Mediterranean cuisine is based on the dazzling freshness and taste of its food and for many tourists, sun-dried tomatoes, pickled capers and stuffed olives are great mementos.
The Maltese have a sweet tooth - honey-rings and nougat are a speciality – and there are numerous liqueurs made from fruits such as prickly pear, melon and pomegranate. Almonds are used to make a popular cordial called orzata.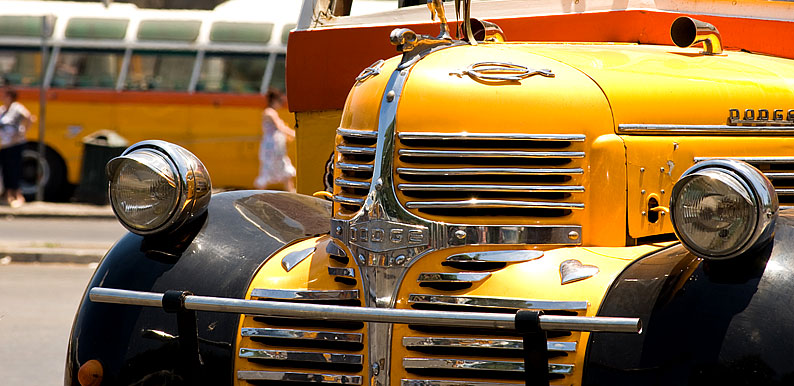 Transport
The Maltese islands are not very large, which makes getting around relatively trouble-free.
Public buses are cheap, efficient and plentiful and even the longest journey takes only around 50 minutes. Most visitors use Valletta as the hub but there are direct routes too between many tourist areas.
Renting a car – whether from an international agency or a local firm - is a good option if you want to wander around independently; all the road signs are in English and driving is on the left. International driving licences are acceptable.
Parking in towns is possible, but look out for resident-only zones and for time restrictions. Renting scooters, motorbikes or mountain bicycles is fine, but not all roads or car drivers are two-wheel friendly.
White taxis can pick up passengers from anywhere except bus-stops and are metered. There are fixed tariffs from the airport and the sea terminal to all localities. Pre-booked black cars, though chauffeur-driven, tend to be cheaper.
A regular ferry service links Malta to Gozo, while a sea plane links Grand Harbour in Valletta to Mgarr in Gozo. There are also regular boat services between islands and a water taxi service using traditional Maltese dghajsa boats is available across Grand Harbour.